H.E RTD. GEN. ROBERT RUSOKE PRESENTED HIS LETTERS OF CREDENCE TO H.E PRESIDENT PAUL KAGAME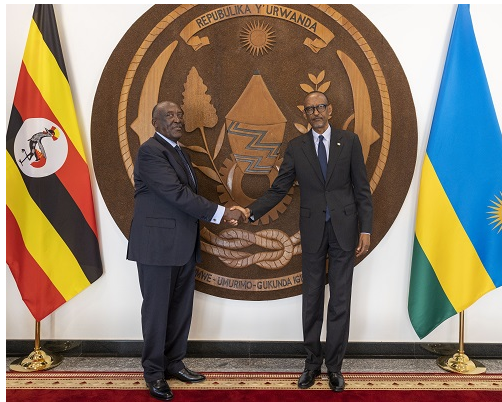 H.E Rtd. Gen. Robert Rusoke, Uganda's High Commissioner to the Republic of Rwanda, presented his letters of Credence to the H.E President Paul Kagame, President of the Republic of Rwanda, today 22 June 2022.
President Paul Kagame welcomed the new envoy to Rwanda and assured the High Commissioner of all necessary support during execution of his duties.
The High Commissioner expressed gratitude for the warm reception and congratulated H.E. the President, the Government and the people of Rwanda for hosting CHOGM and the high level of preparation. Rwanda has made our region extremely proud.
The High Commissioner retaliated the bilateral relations, are not simply cosmetic, the two sister countries and their people are bound by history, blood relations and common location that define and impact on their destiny. This bond should be nurtured and protected at all costs for the social economic welfare and development of the people of our sisterly countries.